Here at the Enchanted Inkpot we celebrate wonderful books, and all the people who help create them and get them into the hands of readers. And some of the best and most fervent champions for good books are the people out there selling them.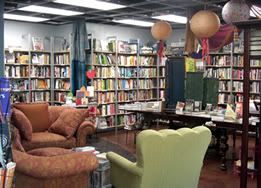 Today's feature is the first in an irregular series of interviews with some of our favorite Independent Booksellers, who will be sharing with us some of their experiences, observations and (of course) favorite fantasy books!

To start things off we have Melissa Posten, the Children's/YA Guru for Pudd'nhead Books a St. Louis area bookstore in Webster Groves, Missouri. Check out the comfy chairs and all those BOOKS!

Melissa is also the founder of Kidliterate, which features regular reviews of a variety of books for young readers. We're very happy she agreed to take some time to answer our questions!


Q: Welcome, Melissa! First, can you tell us a little bit about how you got into bookselling, and about your bookstore?

I moved from Southern New Jersey to the western Philly 'burbs in 2000, to live with my now-husband. After about a year, I decided to go back to school, and wanted to get a part-time job. On a whim I stopped into a local kids' bookstore, Children's Book World to pick up something new to read. Behind the counter was a little handwritten sign - they were looking for part-time help. A couple of days later the owner, Hannah Schwartz, hired me. I worked there for a little under a year before my schoolwork became overwhelming and I had to leave. I was, to say the least, very sad.

Fast forward to 2004. I'd graduated from college and worked in the "real world" for over a year before leaving my latest unsatisfying nonprofit job for personal reasons. An email to Hannah (who'd I'd kept in periodic touch with) brought me an invitation to return, which I eagerly accepted. I worked there until we moved to St. Louis in June 2008 so my husband could take a new job. It broke my heart to leave. CBW isn't just a store - it's an institution celebrating its 20th birthday right now, and the staff is a family that I will always be a part of. Part of me will never really get over having to leave.

I didn't work for my first eight months here in STL. Sometime in December I visited a brand-new full-service independent here in town, Pudd'nhead Books. I got to talking to the owner, Nikki Furrer, and a subsequent visit led her to chase me down to hire me (she'd forgotten my name, but remembered enough to track down CBW and find me). That was flattering and awesome, and now I'm basically the entire kids' department there. I do 90% of the kids' buying and Nikki has basically trusted me with free reign in my little department. We're trying to make kids' books one of the things the shop is really known for, along with an awesome, hand-selected stock of fiction and nonfiction for adults, local coffee and chocolate, comfy couches and the attitude all bookstores should have: read for pleasure. Books should be fun. I think we succeed in making them so in our shop.

Q: How do you view your role as an independent bookseller? What do you find most rewarding about your job? What is most challenging?

The indies are the only thing standing between Barnes and Noble and Amazon having full control of the publishing industry. These giant corporations already make far too many decisions about what we get to read, and what scares me the most is that the majority of people don't understand that. B&N in particular has a scary amount of power. They dictate what covers should look like (by refusing to buy a book unless they get what they want). Their choice whether to buy a book or not can destroy an author's career - get sequels cancelled, contracts nullified. And they specialize in frontlist, so I hope you enjoy what's been published recently.

And Amazon...well, I think before long it will be Amazon and the indies. People are too spoiled by sitting in their houses and clicking to get things. What I don't think they realize is that once Amazon has eaten everything in their path, those awesome prices they're enjoying? History. Why would Amazon discount a book 40% if they were the only game in town? They wouldn't. So you might be getting cheap books with free shipping now, but don't fool yourself - that's going away. Maybe not tomorrow, but it is. (And the Kindle? Is not going to make books vanish. But it does give Amazon a scary amount of control over what YOU read.)

So that's a long way of saying something simple: I think indie booksellers help preserve the integrity of publishing. In a world of chains overrun with Twilight tie-in books, we're still handselling books that were published five, ten, twenty years ago.

But mostly I think it is the job of an indie bookseller to put the perfect book in someone's hands, or at least make a darn good attempt at it. I hear stories about booksellers basically rolling their eyes at readers of genre novels/chick lit/scrapbook themed mysteries. Not after they leave. In front of them. Those indie booksellers make me nuts. Books are books. They are great. They can change the world. And everyone should read the books they want to read. Are you despairing at the number of people who come in and want THE SHACK? Sell it to them with a cheery heart, and when they come back, suggest something you think is better. Don't TELL them you think it is better. Guide them. Get to know them. And if what they want is more of THE SHACK, then order it in for them and sell it to them with a smile.

It is not our job to judge people by what they read. It is our job to continue to make reading joyous. I don't think anyone's ever described the act of clicking on an Amazon link as joyous. Putting a smile on someone's face is the best part of my job. That kid who comes back the next day to grab the sequel to the book you told them they would love. The adult who hasn't read anything they've loved in years. The out of town college student looking for somewhere welcoming to hang. The lonely old man who walks over from the retirement community, mostly just to chat. The people who wander in off the street and don't buy anything. These are the people I want to see, every day.

The most challenging thing about being a bookseller is getting people to understand the value we provide. Why shopping locally is important enough to spend an extra couple of dollars on books. That it's more important to buy one book at full price than four in an online sale, and if that means you have to use the library more, then that's what you should do. That we will help make your kids love reading. That we will help guide your book club. That we will give suggestions to your teachers and professors and grandparents. that we will remember what you bought and ask you about it when you come back in. That we will geek out with you over an upcoming sequel, or whether you're on Team Edward or Team Jacob. That chains do not want these employees to do these things with you, and that most of the people they employ are not really "book people." And those things that we give you? They are things worth paying for.

Q: How can readers and authors work with and support independent booksellers?

Readers: buy your books locally. We might have a smaller selection, but everything's hand selected. Hand selected by one person for one shop - not by one person for hundreds of shops. And anyway, I can get you anything in print in 48 hours. Sometimes I can get it for you the next day. So the "small selection" thing shouldn't be an issue. Come in and buy books from us. And tell your friends. Give indie bookstore gift cards as gifts to friends and family and your kids' teachers. Talk us up to anyone who will listen. If the people in your life don't get it, bring them in. Let us convince them. Give us a chance to impress you, to surprise you.

If you don't have a local indie or if you don't like your local indie, buy them at Powell's online or another shop through indiebound.org. Or, frankly, go in and tell that indie bookstore that you would love to shop there, but their attitude sucks. People don't hesitate to complain to the managers of chain stores. But I honestly believe that there are more good indies than bad. They pay taxes in your community. Their children go to school with yours. Their employees spend money where you spend money. Your money stays in your community. "Buy local" doesn't just mean food.

Authors: ask an indie to host your launch party. Ask an indie to sell books at your school events. Ask your publishers to send you to indie shops. Visiting a friend or family somewhere? Look to see if there's an indie shop and try to set up an event while you're there (because we all know that there's not much marketing money out there). Link to indiebound.org on your website - first, if you can't bring yourself to only link to them. Indies will love your books. They will embrace them and send them out into the world with a hug. And if they're still in print in five years, they'll be the only ones left selling them (unless you're Stephenie Meyer).

If you walk into an indie shop and you don't see your book, give us your card. Tell us the title. In a world of thousands of books every season, piles of catalogs to go through, books slip through the cracks. We might have missed yours. We take suggestions from our customers all the time; we'll certainly take them from authors.

Maybe I've read your book. Maybe I hated it. Maybe I just thought it was...eh. But you know what? Even if those things are true, if you're local, and you buy your books from us, I will sell your book. I don't just mean that I will have a copy on the shelf, I mean that I will actively handsell it. The local authors at Children's Book World were friends of the shop. Family of the shop. They brought their kids in to buy books and they bought gifts there. We knew them. They supported us. And we supported them.

So support us. We'll support you. And I promise that if I hate your book, I will never tell you. You will never know. And it won't matter. I will be selling YOU. Our shop friend. I will put your book in people's hands because it's important to do so. I will say, "have you seen this new book? the author's local." I'll tell them what it's about in a way that will at least have a chance of getting them to walk out with it. (Every handsell is not successful, of course. I am often the worst at selling the books that are the biggest part of me, because I get too excited and describe them badly.)

And if you're a kids' author and you want to do schools? I'll get you school events. You want to do local festivals? I'll make the phone calls. You have marketing ideas for your book? I want to hear them.

It's a hard world for the majority of authors. It's a hard world for the majority of indie shops. Let's help each other.

Q: What excites you most about YA and MG fantasy?

That it's bigger than ever. That it's here and it's not going anywhere. I'm tired of vampires but I want them here. I don't understand all these zombie books but I want them here.

That it excites boys. I don't give a crap if a boy never reads anything but fantasy (some of their parents seem to care). They're READING. They're imagining.

(But please - authors - more boy fantasy. More. It seems like more and more books feature girls. Boys won't read about girls like girls will read about boys. Some will, but many won't. I need books to sell. Books with two main characters are fine! Just give me some boys, please!)

That girls are reading about kickass girls who are casting spells and swinging swords and saving themselves, fortheloveofeverythingholy.

Q: Can you tell us about a few of your recent favorite YA or MG fantasy books?

SHIVER by Maggie Stiefvater is so, so, so freaking good. GRACELING. THE HUNGER GAMES. (Everyone knows about these.) THE LITTLE SECRET by Kate Saunders is really good (but I hate the cover). There's a funny one out now called ALIEN FEAST that I enjoyed a lot. And my favorite about to be paperback is IGNATIUS MACFARLAND: FREQUENAUT by Paul Feig. If you haven't read it, please get it straight away.

Thank you, Melissa! Best wishes to you and Pudd'nHead Books!


For more information about Puddn'Head books, go to www.puddnheadbooks.com. They also have a Facebook page and are on Twitter.

To read some of book reviews by Melissa and others, go to www.kidliterate.com.