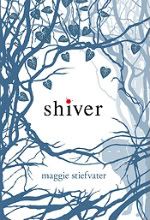 I'm wildly
excited to be able to introduce Enchanted Inkpot readers to our newest guest, Maggie Stiefvater, author of
SHIVER
(Scholastic, 2009) which has just hit the New York Times Bestseller list at #9 on its first week out! This book about th bittersweet love between a girl and a werewolf has received a ton of internet buzz, and with good reason. It is a lush book, full of longing and love that is both heartbreaking and hugely satisfying.



Thanks so much for stopping by Maggie, especially because I know how swamped you are right now. I just recently finished SHIVER and loved it. How did you come to write fiction? Especially with so many other creative pursuits in your life?
I think that some people are just born storytellers. I firmly believe that anyone can learn how to write a novel, and probably make it a pretty decent novel, actually, but I also think that some people have to tell stories. It busts out of them in a million different ways -- telling stories to your siblings, making up improbable plots in your head for people you see at the gas station or airport, stories scribbled in notebooks, and finally, novels. I've always had the urge to make up stories -- it's something quite separate from my other creative urges.

Why fantasy and why YA?
There is a "rule" floating out there that says "write what you know." I'm not so sure about that one -- I think it only holds true for emotional situations as I, personally, have never become a werewolf and seem to manage to write about it quite well, thankyouverymuch -- but I do like this rule: Write what you love. And I've always loved reading fantasy YA and middle grade, particularly contemporary fantasy, with a healthy dollop of the real world. So while I did battle with some pretty awful IRA thrillers in my teen years, I started and ended with paranormal YAs, and it's where I'm at home. It's still my favorite thing to pick up off the shelf to read too. When my reading tastes change, that's when my novels will too.
(
Collapse
)